Chris Connery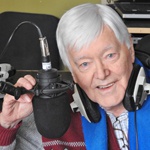 Hi, Connery's the name, Chris Connery – Thornbury Radio's roving reporter with a licence to chat!
Let us know of an event or item of news you would want us to cover and Chris will arrange an interview which will feature across our schedule.
Chris has enjoyed a long and varied career in the entertainment industry including TV presenter for Tyne Tees and HTV, local radio presenter and journalist and reporter for the Thornbury Gazette. He has worked with some of the great names in show business, including The Beatles, Lulu, the great Christopher Lee and a host of others.
Chris has been a resident of Thornbury for many decades and would only be too pleased to meet with you to hear what you have to say.
Thornbury & District

Mist

High: 7°C | Low: -2°C