Glyn Michael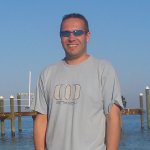 Hi my name's Glyn Michael - some people might know me by a different name - but this has been my "on-air" name since the 1980's - for some reason it was wise not to use your actual name on-air back then ;-)
I've lived in Olveston now for over 20 years - I'm told that means I'm about two-thirds of the way to being regarded as a "local"!
I love all sorts of music, but in the main on my show I try to keep things mainstream and familiar, with the odd golden gem thrown in from time to time. I strive to "keep it local" - so I'll give lots of mentions to events in the area, and feel free to contact me with events you want to publicise. I'm also a strong believer and supporter of local community initiatives, so get in touch if you'd like your local good-cause promoted! Easiest way to do that is using the "Contact" button on our website.
My main role at Thornbury Radio is on the technical side keeping things running. It's a constant challenge and I'm always learning new things. If that sounds interesting and you'd like to get involved, then please get in touch!
Thornbury & District

Medium-level cloud

High: 22°C | Low: 15°C