Nigel Lane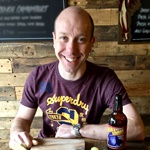 Please join me for Lazy Sunday. It's a great way to start the day on Gloss FM. An eclectic mix of music and chat, with music from across the decades and a brain teaser thrown in too.
I'll also make time for shout outs and requests too.
Simply email: nigel@glossfm.co.uk
Or you can text to 60777 if you start your message with the word "Gloss". If you do text, don't forget to say your name or I won't know who you are!
So put the kettle on and join me from 9-11am each week for Lazy Sunday.
Thornbury & District

Sunny intervals

High: 27°C | Low: 18°C