Andy Dent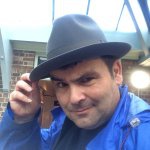 I started wanting to do the technical part of Broadcasting. I studied Electrical Engineering and a lot of this is still very useful.
My first real radio experience was with the Bristol Hospital Broadcasting Service. I owe a lot to this station for "the radio knowledge" I've learnt both behind the microphone and presenting programmes. Since 1987 I have worked on various community stations in and around Bristol including shows at Thornbury FM and Gloss FM and now Thornbury Radio!
Thornbury is a great place with history and a mix of shopping in the high street and of course some great places to grab a coffee and cake.
I play the piano and church organ and when I get time I also ring church bells.
My other main activities include working for The Avon Talking Magazine where the subscribers can hear me on features. I mainly work in the back office and like a lot of these places there is a lot of work to be done.
Afternoon delight will be a mix of modern and music from the last 4 or 5 decades. Including the odd interview and the one to watch bringing a mix of local and new talent. I look forward to having your company!
Thornbury & District

Light rain

High: 8°C | Low: 7°C